Today, November 23th Servas Ukraine National Secretary Serhii Kibitkin presented his report about the situation of Ukraine for the SICOGA 2022 (India).
The available video version of the report – watch the video.
Presentation PowerPoint – click here to oper Presentation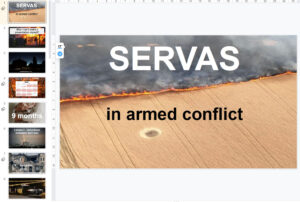 And the text for the Presentation and video.
——- Script of the speech Sergey Kibitkin——–
suprabhat dosto सुप्रभात दोस्तो
Good morning, friends!
Let me introduce myself – I'm Sergey Kibitkin. Since 2012 I have been a member of Servas and am the National Secretary in Ukraine.
Today I am very lucky according to our situation.
— slide 2 —
Why?
I have electricity, I have Internet access.
I'm lucky to be talking to you at this exact time before the air raid alert.
The air attack by cruise missiles has not yet begun, so I hope to finish my speech.
— slide 3 —
We are shelled every day in all regions of the country, electric power plants and other elements of the infrastructure of the civilian population are destroyed.
But I will still speak, at least in this format.
— slide 4 —
In 1 day, it will be November 24th – almost 9 months of the war (Military conflict) in Ukraine.
Remember this start date – February 24th.
9 months – is it a lot or a little?
— slide 5 —
So long time Mother bears her child to give birth to him in this World.
It is for 9 months that Ukraine has been struggling with what should not be in the modern world – this is War.
During the War, I learned 3 main life lessons.
It is about them that I want to talk about today in my speech.
— slide 6 —
Lesson 1 – International institutions don't work.
Neither the UN, the United Nations Security Council, nor the Council of Europe could stop the war in Ukraine.
Moreover, in the UN, Russia has the right to veto and remains in the UN, although it violates all possible human laws.
I will try to explain with one example:
— slide 7 —
Imagine that you lived with your family in a beautiful house/apartment.
One day, you return from work, and half of your house is destroyed, your wife and son are killed, and your neighbor appears in the kitchen.
— slide 8 —
In a normal country, you would call the police, and the criminal would be caught and tried.
He would have spent the rest of his life in jail after that.
But what if, after you call the police and the court, they tell you that they share your feelings and do not want to interfere and annoy the neighbor?
The police won't show up, and the judge says it's not his jurisdiction to try your neighbor.
What would you do in this case?
Today, not only Ukraine, the whole world has become a hostage of one Russian leader who wants to redraw the map of one country and possibly Europe to suit his desire.
This man brandishes a nuclear baton and does what he wants.
My request is to influence your governments and officials. In the 22nd century, such events should not be in principle.
And here I want to move-on to the second life lesson I have learned.
Lesson 2 – Ordinary people are more effective.
— slide 9 —
I remember what was happening on the western borders of Ukraine at the beginning of the war (I was there from 25 to 27 February), when thousands of refugees stood in lines for many kilometers for fear of being killed in their native land.
These people were forced to flee to other neighboring European countries.
— slide 10 —
According to UNHCR stats, (United Nations High Commissioner for Refugees)
— slide 11 —
15 million refugees from Ukraine have fled the country since the start of the Russian invasion on February 24.
— slide 12—
Think about these numbers.
15 million – this is the entire population of Belgium (11 million) and Slovenia (2.1 million) combined on a map of Europe.
I saw many volunteers from other countries.
They all spoke different languages, but they did one thing – they helped people.
— slide 13 —
They helped with food, products, set up warming stations, helped with paperwork, organized shuttle transportation for refugees to the big cities.
All these volunteers were not waiting for something, some decision; they just came and did it.
The same situation was with the members of Servas.
At the beginning of the war, as the national secretary of the organization, I received many requests for help to give shelter to refugees.
Moreover, the speed of response to requests is so fast that while a person was traveling by train around the country, a Servas representative in the city was already waiting for him at the place of arrival.
The story is about Helen from Ukraine.
— slide 14 —
I'll tell you about our member Servas from Eastern Ukraine – about Helen. She managed to leave Melitopol the day before the occupation and get to Western Ukraine.
With the help of volunteers, she managed to cross the Romanian border.
While she was traveling to Zurich, I managed to contact the management of Servas and find people who could meet and help Helen with housing.
Now she temporarily lives in Zurich and teaches Ukrainian children.
The story of Denis
— slide 15 —
When the war started, my wife and I tried to take our son out of the country.
For 3 days, we spent the night and lived in the line of refugees on the Ukrainian-Slovak border to get to the territory of Slovakia.
During this time, I got in touch with Peter's wonderful Servas family from Bratislava, and they agreed to host Denis.
Peter's family sheltered Denis, gave him a room, and helped with a place in a local school and official paperwork.
Our son lived with them for 3 months, like his own.
In the same place, Denis met his birthday away from his homeland and without his parents.
Right now, we are all together in Western Ukraine.
History about Kharkiv.
— slide 16 —
My wife and I also had our own experience of hosting refugees.
At the end of February, we also received refugees from the destroyed Kharkiv.
It was 3 people managed to break through the shelling and go to Western Ukraine, where it was relatively calm.
When I was told by people who survived shelling and bombing, I could not believe my ears.
How is it possible that the 22nd-century invader simply systematically destroyed the peaceful city of Kharkov day after day?
What did I want to say?
What has this story taught me?
People are always stronger than any state organization. Their support and their desire to help will solve all problems.
At the beginning of the war, I held an online conference with representatives of Servas Canada.
In questions of people, it was visible genuine interest to help.
In my opinion, this is precisely the main goal of Servas – this is the desire to serve, to help other people.
Later, for myself, I learned the third most important lesson.
— slide 17 —
Lesson 3 – Get to know other countries so you don't get scammed.
According to social polls in Russia, from the start of March, about 75-80% of people support the war in Ukraine.
Why?
— slide 18 —
In my opinion, all this is due to propaganda, which stupefied the population for 20 years and imposed the image of an enemy on all the country's inhabitants.
And one of the goals of Servas is to get to know the culture of people better, to get to know ordinary people better, and to find out how ordinary people live.
If the Russians knew Ukraine better, its people and would never be able to afford to attack their neighbor and kill him every day.
I understand that there are no terrible nations – there are bad people or their representatives.
So I encourage you to remember these 3 important lessons:
— slide 19 —
The world needs to have a precise mechanism that could block the destructive actions of one inadequate person from affecting millions of other peaceful people.
People who are always ready to help are the most important foundation of any organization. It is the backbone of any non-profit organization.
The more people and nations know each other, the fewer problems there will be in the world.
I anticipate your questions that will arise after my report:
— slide 20 —
How many Servas members are in Ukraine?
— slide 21 —
We have a small organization – now 10 people are active, officially registered on the site, and confirmed.
Most members of the Ukrainian Servas are located in central Ukraine or Western Ukraine.
What regions are fighting in?
— slide 22 —
North-East – to the eastern part of Ukraine (direction Kharkiv). The Ukrainian troops liberated this territory and pushed the invaders back to the state border of our country.
North – there were attempts to capture the capital of Ukraine – Kyiv (winter 2022 – February -March). All equipment and the attackers were destroyed, and they left the area.
South – from the Crimean side, Russian troops occupied the regions of Mariupol, Melitopol.
Kherson was liberated on November 11 by Ukraine.
Fierce battles are going on in this direction.
There is hope to push back the invaders from Zaporozhye region.
What has changed since the beginning of the war, February 24?
Thus, hostilities take place in Ukraine.
But don't get the false impression that everything is calm in the Center and the West of Ukraine.
— slide 23 —
Every region of our country is being bombarded with cruise missiles or kamikaze drones.
We have situations where we have an air raid alert 5 times a day.
This is an example of Russian cruise missile attacks every day's map.
Red color means – this region of the country is under attack.
Any air strike means new deaths and destruction.
— slide 24 —
According to the end of October, all oil refineries had been destroyed in Ukraine completely, 50% of electric power plants had already been destroyed in November. 100 rocket strikes per day.
This is done on purpose to bring Ukraine to its knees.
I also want to remind you that this is not a "special" operation, as the Russian leadership says.
This is a real genocide and destruction of the population of one of the most densely populated countries in Eastern Europe.
I would like to recall the tragedy in Bucha, in Izyum, how Mariupol was destroyed.
How can Servas members help Ukraine and refugees?
— slide 25 —
I would divide Ukraine's support into 2 main areas: Non-material and material assistance.
Non-financial assistance:
Influence their local politicians, and speak out in support of Ukraine.
Take part in charity events in support of Ukraine.
Help refugees from Ukraine at home.
Material aid:
Send the amount for Ukraine support funds.
This money goes to support people and restore the country and infrastructure.
Below are the lists of funds.
— slide 26 —
Our country has an official platform of funds, which was created by the President – United 24 – United24
Today, donations worth 213.5 million US dollars have already been collected.
It is not a single fundraising platform in the country.
Red Cross Ukraine – https://redcross.org.ua/en/
Non-government, Humanitarian, Medical
— slide 27 —
How can Servas support refugees from Ukraine?
Unfortunately, at the moment, there is no centralized platform based on the international website servas.org, which would be able to receive and process requests from refugees from Ukraine.
However, this does not prevent you from becoming a volunteer in other well-known international organizations:
Red Cross
UNHCR (United Nations High Commissioner for Refugees
And the most critical question:
— slide 28 —
When will Russia's war in Ukraine be over?
All this depends only on your support.
Today, about 50 countries support and help Ukraine.
Without their help, we would not have survived this long.
So, I want to say one phrase –
#StandWithUkraine
aapako shaanti! (apko shanti)
Peace to you!
आपको शांति!
---